Hi friends! This weekend my daughter turned five and we threw her a fun Olivia the Pig themed party at our home.
In case you are not familiar with her, Olivia is a book character and TV show, based on the book series by Ian Falconer,that my daughter LOVES. Olivia is a lovable,funny, and precocious little pig with a huge imagination who loves to dance, dress up, and gets in all kids of fun adventures.
Today I'm going to try and write this party post a little differently than I normally do. I want you to be able to take my easy tips and apply them to whatever theme or type of party you choose to throw. This could be a birthday or even a baby shower, wedding shower ect. Instead of just throwing up a bunch of edited party pictures, I want you to see that what I do anyone can do if you have the time, It took me a good week of planning and work to put this party together, and it's something I genuinely like to do..kinda my thing. If party planning isn't your thing I totally get it! There's nothing wrong with that! I'm feeling a little backlash lately on moms who throw creative parties. I like this sort of thing and I realize it doesn't make me a better mom  than the next. Throwing out some store bought cupcakes and balloons and calling it a day is great! I've thrown kid parties both ways 🙂
Okay so back to why you came here! Ha
Party Planning Tip #1: Use dollar store table clothes to decorate.
I folded and cut up tablecloths from the dollar store and taped them to the top of my hutch to make them look like curtains. My backdrop is gift wrap from the dollar store. Then printed out pictures of Olivia online and taped them up. The larger one is actually an engineer print from Office Max. They are pretty inexpensive from office printing places. All you have to do is bring in your image on a thumb drive to order it.
The boxes for party favors are from Amazon, also inexpensive.
Party Planning Tip #2: Wrap empty boxes with coordinating gift wrap and duct tape/ribbon and then stack them for an easy cupcake stand.
I found this wrapping paper at my dollar store and bought 5 rolls when I saw it. The duct tape is some I already had but you could use ribbon or whatever you've got on hand. Such a cute and cheap way to serve cupcakes that can be customized to the theme and colors of your party!
Party Planning Tip #3: Create a festive photo backdrop with wrapping paper and dress up items from the dollar store and your kid's closet.
I went through my daughter's dress up items in her closet and pulled out tiaras, fairy wings, glasses, pretend high heels, and bought some boas, scarves, and hats from the dollar store. The kids and parents LOVED it! We made our own piggy ears  by cutting out craft foam and gluing the ear shapes to foam tiaras. I also made the noses by gluing foam shapes to small dowels.Having a painted frame like I have here is also cute.
Below you can see how I cut out and glued foam shaped like ears to tiars and also made pig noses.
Look how cute the photos turn out!
Party Planning Tip #4 : Use store coupons and shop Amazon for party supplies.

This may seem like a no brainer, but I cringe when I see people buy full price things at stores like Michael's and Jo Anne's. Those stores even have apps for your phone to show the cashier at checkout. Also Party City has in store coupons all the time on their website that you can pull up on your phone or print. Last week it was 40% off any full price item.
This pinata is a good example. It was $20 full price at Party City and I showed the cashier a 40% off coupon from their website and received the discount. I went back a different day and bought the candy for 40% off too.
I made cupcakes and found these cute plastic cupcakes toppers on Amazon for just a few dollars. Together with the no fade Wilton cupcake liners they turned out great!
Party Planning Tip #5: Make your own party wreath for the front door or cake table.
For this wreath I used hot glue to attach a white boa to a wood wreath form and also painted and glued this craft frame. You could use a photo of your child or make a graphic on PicMonkey.com like I did. Then I used a couple of the piggy photo props I made for the kids and attached to the wreath. For some of my other DIY party wreaths ideas, check out my number flower wreath, felt rainbow wreath, and golf themed wreath posts.
Party Planning Tip #6: Make your own free personalized invitations and party graphics on free online editing websites like PicMonkey.
I made this invite using PicMonkey and this free chalkboard background jpg. You can then email your image or print and hand out as invites.
I also made this cute cupcake sign.
I hope you are able to use some of these ideas and make them your own 🙂
I used a little white bucket to hold my daughter's stuffed Olivia's doll and set it on a plate with some homemade chocolate covered strawberries.
My best attempt at a freehand Olivia the Pig on our chalkboard!
Here's the birthday girl in a $10 Target dress and red petticoat skirt we already had.
My hubby is the best. I'm sure he'll love me including this picture! ha
Thanks for coming by and visiting with me today. I hope you liked our party and come back again soon.
Joining:
Wow Us Wednesday @ Savvy Southern Style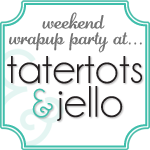 " />