The first time I heard you could paint fabric was in the Chalk Paint Basics class I took at 3 Oaks Studio. My Chalk Paint® stockist Vicki was telling us how she painted her Toms brand canvas shoes, and even her outdoor pool deck with this paint. How intriguing, right?
Our outdoor furniture is about 5 or 6 years old and it came with these plain beige Sunbrella fabric pillows. They were starting to look dingy and I thought about replacing them because I am also creating a little cabana makeover where I've sewn my own curtains for outside. It's looking really cute and green is my accent color for outside.
My husband thought I was nuts by the way! HA ha..He said, "You're going to ruin the pillows and they won't be soft"…And I was like, "Since when do you put your face on our outdoor pillows?" In the end he said they look good :0
Outdoor pillows can be super pricey so instead of buying new ones I have painted the old ones! I love how they tuned out! The first thing I did was take out the stuffing and cleaned the pillow covers and put cardboard inside so paint wouldn't bleed. The colors I used are Pure White and Antibes Green, both Chalk Paint® by Annie Sloan. I did water down the paint a little so it was easier to paint with and not so thick. I painted two white, and two green.
I stenciled three of them, and then did green grain sack like stripes with blue painters tape on one pillow as shown above. That one was painted white, dried, taped off, and painted green.
My nautical stencil was a Martha Stewart one purchased from JoAnn's. I also used my Royal Design Studio stencil, Moorish Endless Circle design for the modern looking circle pillow..The modern leaf looking one was also from my stash via JoAnn's.
So what do you think of my little pillow makeovers? Different, right? Stay tuned for my outdoor curtain cabana coming soon.
Joining:
Wow us Wednesday @ Savvy Southern Style
Feather Your Nest FriDAY @ French Country Cottage
Inspire Me Please @ Blissfully Ever After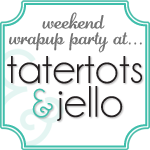 Create & Inspire Party @ A Night Owl Blog