(The following is a sponsored message from Serenity Living Stores.)

Is modern classic furniture your home style? If so check out www.serenitylivingstores.com/
They have a beautiful collection of modern classic sofas, chairs, tables, and lighting.
"At Serenity Living, we offer a wide selection of classics of modern furniture design — featuring authentic replicas of the most sought after designs of the mid century modern furniture era.
We believe that these iconic gems should be within reach of everyone who appreciates the originality of the modern furniture movement. Quality replicas of the world renowned designs, including the Eames Chair, Egg chairs and many more modern sofas, chairs and tables, can be purchased at affordable levels."
You've already re-painted the walls and feng-shui'd the furniture. What else can you do to add a little excitement to your interior design? Here are 10 out-of-the-box ways to jazz up your home.
1: Houseplants
Forget the gardenias out of Better Homes and Gardens. Go for the fuzzy pink appendages of the acalypha or the crawling tendrils of the spider plant.
2: Egg Chairs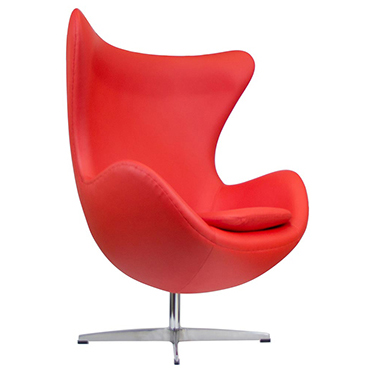 Already a staple of modern homes and hip offices, egg chairs are also great for snooty neighbors or in-laws who still don't think your husband is good enough. Let them try to turn up their nose when they're cradled in an egg!
3: Crazy Rugs
The best thing about a colorful or brightly-patterned rug is that it requires no commitment on your part. If it works out, great! If you decide you don't like it after all, you won't have to rip up the flooring to get rid of it.
4: Upside-Down Mirrors
Hang your mirrors from the ceiling for an off-beat look that's still functional. It's an easy way to add a little whimsy to your home without having resort to major renovations.
5: Chandeliers
Give your guests something to gawk at with the purchase of a grand chandelier for your den or living room. The odds are good that they'll go right home and order their own, so you'll start a neighborhood trend!
6: Furniture Reproductions
If you'd like a vintage look without the vintage stains, consider something like modern classic furniture reproductions, which will offer all the groovy style of yesteryear but with 21sty century utility and comfort.
7: Painted Interior Doors
Not only is it fun and quirky, but the next time someone asks for directions to the bathroom, you can just say, "The purple door down the hall."
8: Upholstered Stairs
Give every step a unique design, like a different color, pattern or image. It can become a fun family project if everyone chips in with ideas or works on it together, like making new step for every birthday or milestone.
9: Storage
Who says organization can't be interesting? Cut your shelves into the shape of dolphins or flowers. Install rails on your ceiling and keep all your plastic tubs hanging above your head.
10: Stenciled Floors
If you have wooden floors, it's easy enough to grab some paint and a few stencils and make a one-of-a-kind design. Most people only do this to their walls, but you're thinking out of the box, remember?
Do you have a modern pieces in your home? What's your favorite piece?