Isn't it exciting when strawberries are $0.99 a pint at the store?! I love it..and It means lots of strawberry goodness for the week,
This weekend we made these frozen strawberry treats and they were a big hit! My kids loved them and actually we all did. I've been making smoothies everyday since I received the Ninja blender for Mother's Day…Love that thing. I found these cool ice cream looking Popsicle forms at Ross on Friday .My daughter begged for me to get them 🙂 You know how that goes. There were cute, and inexpensive there so I did…
Tovolo freezer molds
Strawberry "Ice Cream" Treats by Lina Darnell
(These made 8 small pops, depends on your molds.)
Blend together :
1/2 pint strawberries
1/4 cup Vanilla Almond Milk
1/3 cup Greek style yogurt
Pour them in your molds and freeze for at least a few hours before you enjoy.
Look at my other cool "find" from Ross that day. I love it…just $24!
wow us wed @ Savvy Southern Style
Party Wednesday At The 36th Avenue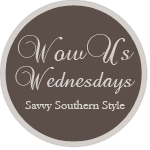 Savvy Southern STyle