I've been wanting to use the chives I've been growing in my potted garden and this was the perfect opportunity!
Have you ever seen the bag of small gourmet potatoes at Costco for around $5? They have a great combination of light, red, and these cool looking purple/blue potatoes, and they taste great!
I'm not a fan of traditional sweet tasting potato salad, but I do love this version that I've been making for the last few years.It's usually a popular side dish when I do make it for barbecue parties and it's perfect for summer! And yep it's very popular with my hubby because it has bacon! You can make way ahead of time because it only gets better chillin in the fridge.
It's definitely something you can edit to make your own and I like the combo of sour cream and mayo instead of all mayo.
Bacon & Chive Potato Salad by Lina Darnell
(adapted by this recipe via Taste of Home)
Ingredients
4 cups cubed red potatoes or potatoes of your choice like the gourmet bag from Costco like I bought
1 cup chopped onion (I like red but on this day I used white and it was good too)
7 strips of cooked and crumbled bacon
2 tablespoons minced fresh parsley
1/2 cup real Mayo

1/2 cup sour cream

3 tablespoons prepared ranch salad dressing
2 tablespoons prepared mustard
4 teaspoons white vinegar
1/2 teaspoon minced garlic
1/4 teaspoon salt
1/4 teaspoon pepper
handful of chopped chive
Directions
Place potatoes in a large saucepan and cover with water. Bring to a boil. Reduce heat; cover and cook for 10-15 minutes or until tender. Drain.
In a large bowl, combine the potatoes, onion, bacon parsley. In a small bowl, combine the remaining ingredients. Pour over potato mixture; toss to coat. Sprinkle chopped chive over the top. Refrigerate for 1 hour or until chilled. Yield: 8 servings.
Let me know if you try it or if you make something similar. Have a beautiful weekend friends!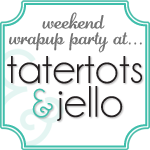 Joining:
Wow us Wednesday @ Savvy Southern STyle