This past weekend I participated in a room refresh challenge utilizing fabulous Better Homes & Gardens products exclusively sold at Walmart. I am thrilled with our mini patio makeover and am excited to share the details with you today! I adore these high end looking pieces I was able to snatch up at affordable prices.
Let's see some before pictures! We've had this patio set from Costco for about five years. It's starting to show some age and is very, very, beige.
One of the beige chair cushions blew away when we lived in Las Vegas years ago and we never replaced it. I called to see how much a matching replacement Sunbrella fabric cushion would be and you might as well buy a new chair! Cushions can be so expensive, so I've been thinking about an alternative.
Looking for new patio cushions is FUN, deciding is HARD!
I was so happy to pick up two of these BHG deep seat cushions in red that fit the back of our chairs perfectly.
This matching Sedona red 9 ft wood umbrella creates the perfect amount of shade in our little seating area.
This green outdoor rug, also from Walmart, provides a fun accent color and really brings that indoor look outside.
I'm obsessed with these decorative BHG Bombay planters, and three of them together at varying heights really make a statement. Don't they look like expensive pottery? They're actually lightweight plastic..shhhh no one will know.
I made a little salsa garden in one pot with jalapenos, cilantro, onion chives, and ancho chilies. These will be perfect for the tomatoes I planted behind the seating area! Read that post here in case you haven't, I enjoy making fresh salsa and now I can grow my own ingredients
These are plastic garden markers from the hardware store dipped in chalkboard paint, and then I wrote on them with a white Sharpie paint pen.
Here's my first succulent potted garden! Succulents are so beautiful, interesting, need very little water, and easy to maintain.
The third pot has a Lily of the Nile surrounded by some red annuals.
The pots brighten our patio and I love these colors together!
These two little cute flower accent pillows, also from Walmart, fit right in.
This bundt cake pan re-purposed as a fun succulent planter is a fun flea market find from this weekend as well as the cheerful yellow and orange vintage tray and candle holder from Re-Markable J.
I love to add vintage elements to my makeovers 🙂
Speaking of makeovers, It's not a fancy frugal makeover with out some spray painted accessories I already had!
These little candle holders and succulent planter are on the coffee table under the covered patio.
I moved our couch under the covered patio to create two separate seating areas. and it made such a difference. More on that seating area in the future.
It's amazing how moving furniture around and adding great accent pieces can change an entire space! We've already had a BBQ and have been relaxing in our new patio, and it's so perfect to start out the summer.
What do you think? Would you like to refresh your patio? Well guess what?!!
I will be giving away FIVE $50 Walmart gift cards, exclusively to my readers, so you can also give your patio a mini REFRESH! Stay tuned for that awesome giveaway!
For more information on BHG @ Walmart visit www.bhg.com/Walmart and follow them on Facebook https://www.facebook.com/BHGLiveBetter
(Disclosure: I was given a Walmart gift card to participate in this patio refresh, but all opinions are my own.)
Joining: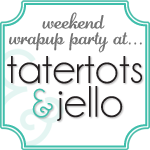 Wow Us Wednesday @ Savvy Southern Style