These little unfinished frames from Michael's can make the cutest gifts! I always keep a few in case I need to make something last minute.


I had some left over cherry blossom scrapbook paper (also from Michael's) left over from my little bunny shelf redo…And then..


I made this little square frame by using Mod Podge to apply the paper. I also painted the edges of the frame. Then I added a quick satin flower.

On Saturday we celebrated my sweet Grammy's 89th birthday and my kids gave her this frame.
I think she really loved it 🙂

Growing up Grammy always went all out for Easter. There were bunnies EVERYWHERE! It was fun going over there to see her displays. I love that my aunts still decorate her nursing home room for her 🙂 She has always inspired my holidays and here are some of my Easter goodies this year…and I'm so lucky to have been passed down some from Grammy over the years 🙂
You might remember my Spring satin flower wreath from last year?

It's now on my mantle 🙂


I hope you are having fun getting ready for Easter and enjoying Spring…I love it!

Joining here: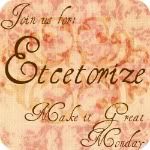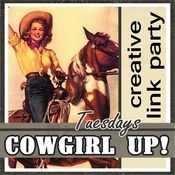 Weekend Wrap Up@ Tatertots & Jello