It's finished! Our patio makeover is complete and I'm excited to show it to you today before summer is over! Our goal was to create a nice "cabana" inspired seating area. You see we have been spoiled in the past living in two major resort cities Phoenix, and Vegas. We used to love doing small staycations during the deeply discounted summer months. There's nothing better than renting a cabana at The Trump or laying out at the Scottsdale Fairmont Princess, except maybe our own cabana in Fresno! (The beers are cheaper and you can be less self conscious in your swimsuit).
Lets take a look at some before pictures. The previous owner of this house started to stucco the wood pillars of this pergola and just left it, so we asked our landlords if we could remove that and he was fine with it.
I knew I wanted to do curtains in order to hide the garbage dumpsters, and to create two separate seating areas instead of having one large one. You may remember our first seating area makeover earlier this summer featuring cushions, pots, an umbrella, and outdoor rug from Walmart.
Let's start with the curtains. Since curtains with actual outdoor fabric can be crazy expensive I decided to use drop cloths from the hardware store made out of heavy canvas. They are around $10 per panel and I used four. Since it rarely rains here, this is a perfect option for me. I've had them up for a month and they look the exact same.
All I did to sew them was fold one side down iron the fold really well, and sewed a straight line. It was so easy. I'm so doing this the next time I need indoor curtains!
My husband bought a couple wood dowel rods and hardware like you would use in a closet and installed them, They are really easy to take down in case you need to wash.
Lets talk about my two end tables. My husband works in construction and brought them home for me. They are spools for electrical wire. I can just imagine this conversation. "Hey man can I have those two spools. "Ya what for?" "My wife has this decorating blog…and spools are the new pallets" HA
They were huge so he was also nice enough to cut them down for me.
I had fun styling this space and love the idea of bringing the indoors outside. We've had these metal wall art faces forever and my husband keeps trying to take them to Goodwill or sell them at every yard sale. I painted them green along with some other random accessories.
Did you see my post a few weeks ago on how I gave these pillows a makeover with Chalk Paint? They were the plain beige pillows that came with our five year old outdoor couch.
I love these simple outdoor patio lights from Target.They are inexpensive and work great!
This other seating area under the umbrella was pushed to the side a little bit and we have this little pool for the kids now. Its a small above ground that has a filter. It's been so great for the kids and us to cool off in. Now I can sit in my shaded cabana, watch the kids swim and sip my iced tea. Perfection…
I hope you're having a great summer! Thanks for stopping by to see my little cabana.
Joining: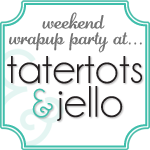 Wow Us Wed @ Savvy Southern Style