I've been seeing some great monogram moss art lately in blogland and decided to give it a try!
First I found a fab frame at Goodwill for $3.00 and sprayed it white.
I had a black letter D already that was currently not being used.
Then I bought some moss at Hobby Lobby and went to work. My glue gun litterally blew up mid project (sparks and smoke)! Scary! Ha ha…So I had to finish gluing with E 6000. Guess I need a new glue gun ASAP! 🙂
My fav detail of this project is this rosette trim I bought at Hob Lob for $2.99.
I think it's pretty, Hubby thinks it looks like an O. Oh well, can't please em all, right?!
xoxo
Lina
Making The World Cuter Mondays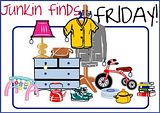 >