Hooray for a small finished outdoor project! I'm on a mission to spruce up our back yard which has had no attention to it since we moved here.
I adore herb gardens! They are so cute and useful at the same time. Here is mine from last year, however I didn't keep up with trimming and watering it very well. Hopefully since we moved to a friendlier plant climate (to CA from Phoenix, AZ) I will be more likely to keep it up and it survives the heat 🙂
I loved this idea of using different sizes of pots with two upside down from Martha Stewart's tower of herbs post.
I had all but one of these pots. Instead of heading back to the store for another small pot I used an empty paint pint and it works fine. Just make sure it can drain water properly. I imagine you could use metal buckets or other containers as long as you punched holes in them for water to drain.
I wanted my pots to be the same color so i painted them with Annie Sloan Chalk Paint (TM) French Linen and Pure White mixed together.
I dipped these plastic inexpensive garden markers from the hardware store in chalkboard paint to create these cute markers. I love them!
This was a really fun project and I will probably do another one with flowers. My kids had fun helping too. They are really into gardening this year and think it's exciting. Stay tuned for more planting of flowers and for the first time…. tomatoes! Have you had a chance to plant anything yet this spring?
Inspire Me Please @
Liz Marie Blog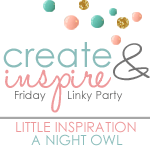 Wow Us Wednesday @ Savvy Southern Style
Show & Tell @ SNAP Creativity