A few months ago I bought these woman's knee socks at Target for $1.75 with the intention of making my 3 year old some leg warmers. I loved those fancy Baby Leg type brands (which by the way can retail for $9-$11 each!) on her when she was tiny, but she no longer fits in those…sad face 🙁


After I bought these, I watched this YouTube sewing video (Don't you love those?).
The basic idea is to make a cuff from the foot of the sock and sew it to the bottom of the leg warmer..
Here's how I made mine. I didn't make the cuff narrow like the youtube video since my daughter is not a baby.

First, make these 3 cuts on your sock as shown. Next fold your middle piece in half into a cuff. Put the cuff around the sock (frayed ends together.) Also nothing is turned inside out. (I find that confusing with sewing sometimes!). Then just sew along your frayed edge (stretching a little as you sew). When you are finished just fold it down. That's it. Even little ole me with limited sewing skills figured this out!! Hooray.
Here's how they turn out! I will never pass up some cheap woman's knee socks again!! How cute would these and matching bows be for birthday & Christmas gifts? 
Here's how they look on my tiny dancer! These are perfect for dance class. I also like these better than tights for potty training reasons 🙂 
She wore these last week to her class 🙂

Have a fantastic Day! Thanks for each and every sweet comment on my posts! This little blog is growing because of all you…and I am super excited to announce my very first giveaway soon 🙂
xo
Lina
Love it?
Pin It
Joining these parties:
href="http://tatertotsandjello.com/" target="_blank">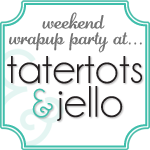 The Not So Simple Housewife

"/>