I did it! I finally got organized and made our entry closet into a workspace & craft storage area. I must say..this took awhile! Before there were folding doors that made it hard to organize. All our coats were in here…but we live in Phoenix and no one used a coat this year! Plus my craft storage consisted of a million Hobby Lobby bags… Since we are renting we safely stored the doors and nothing in here is too permanent.


My colors were inspired from this great shelf paper from TJ Maxx. I decided to use it on the walls. It worked out great!

Here I hung a towel holder and spray painted S hooks from the hardware store. Yellow pails from the Target dollar bin look fab! I transformed 3 clipboards, and also made a magnetic wood wall piece. The ribbon is hung with a pants hanger.
I found this wood wall piece for $5 at Goodwill and loved the cool shape so much. So I decided to paint it with Magnetic Primer from Lowe's. (A side not: Just throw out your roller after done. It took me an hour to clean my hands and sink after this, and I need to take my wedding ring somewhere for a good cleaning. I also ruined a good brush.) I finished with the Valspar color Egg Yolk.
It turned out so bright and cute!
The clipboards I sprayed yellow and then added my adhesive vinyl whiteboard sheets purchased via
Pick Your Plum
.
I went to Goodwill and spent about $13 on wire racks and office organizers and sprayed them white. My MIL gave me these thread storage pieces, but they were a yellowing plastic, so I sprayed them bright yellow.
The wire racks worked great for storing all my small fabric pieces. Jumbo ric rack is kept in that white basket. Oh and my splurge on this project were those great Chevron fabric storage bins $12.99 via Target. I had to go to three Targets to find three 🙂

Here's some more craft storage ideas. I used a lot of glass mason jars, and paint brushes for stacking ribbon. Notice my old toothbrush holder now holding paint brushes? And my Mod Podge & paints on a pedestal? A Goodwill spray painted vintage pedestal stand holds tape & my glue gun.
The last thing I did was hang curtains inside from Ikea.
I love that everything is where I can see it! Now I won't waste so much time searching for things….My husband wants to know if I'll have as much enthusiasm organizing our mess of a clothes closet? Nope!…not so much!
Joining these fab parties: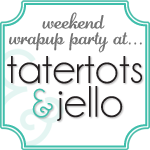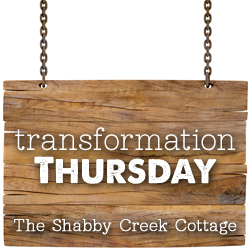 ""/>