I get super excited if we happen to get invited to a birthday party for a little girl! Last month I made this fabric flower headband and embellished tank for a lucky birthday girl! 🙂 These were all items I already owned, so it worked out to be a fancy & frugal gift!
I made mine from six 3 inch circles and used an Ikea kids cup for the template.
Fold a circle in half, then in half again. Do all six peddles and then sew them all along the curved edged size. Tighten up the thread and form the flower shape. Hot glue a button in the middle.
?
I glued a felt circle to the back of the flower and a hair clippie. She can then wear just the clip or put it in the headband.
I also made a matching applique tank top by cutting out these dress fabric shapes and ironing on Wonder Under fusible web. People ask me where I get the shapes to use for applique and I usually just search google images for shapes I need and print them out on cardstock.
I love the little flower button.
These flowers are so simple to make and super cute! I think it's a fun gift don't you?
I hope you are having a fantastic week!
Joining: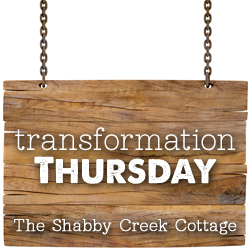 Create and Inspire Party @
Little
Inspiration