Last week we went on an awesome family vacation to beautiful Montana! More on that is a minute. While I was there I made this fresh strawberry pie for the first time and it was so EASY and so delish! My MIL makes this and she suggested this recipe.I used a store bought pie crust.
Fresh Strawberry Pie Filling
(Here's what I used for this pie) and go to Cooks Illustrated for the full directions. They used twice as much strawberries and I didn't have any lemons.)
2 Pints Strawberries
1/2 cup sugar
1 teaspoon of Sure-Gel (Pectin)
1 tablespoon cornstarch
top with whip cream
Bake and cool store bought pie crust before you poor in filling
It turned out great and super festive for the 4th of July!
So onto our big trip. We decided to drive from CA to SW Montana to visit family and it took about 18-19 hours each way. It was our longest trip with the kids. They did pretty well. We found out their max time in the car is about 7-8 hours per day, after that things start to get interesting! ha. I think they slept about 1 maybe 2 hours total in the car…I did try to keep them busy though with road trip bingo, which you can download here, and both ipads were loaded down with movies and games 🙂
I actually grew up camping each summer near this part of Montana about 45 minutes east and north of Missoula,. This is where we spent all our time last week too near the small town of Seeley, MT next to Seeley, Placid, Salmon, and Holland Lakes. I'm always amazed at how close together these lakes are and it's absolutely beautiful driving through the area. My kids and husband had never been here before so it was fun showing them around.
Here we are dressed up in our 4th of July best waiting to go to fireworks!
We stayed right on the river and here is the view from the deck.
This view was so great to wake up to and have coffee each morning. Falling asleep to the sound of the river was pretty great too.
We took a nice three mile hike up to Holland Lake Falls one day.
Holland Lake is so quite and peaceful. If you look close you can see the falls in this photo below taken near the beginning of the trail.
I love hikes that have a falls and nice view from the top. This one has both!
I LOVE this view of Holland Lake and some gorgeous glaciers.
Here's the river my kids caught their first fish in! Doesn't it look like a post card?(This is from my cell phone I wish I had brought my good camera down.)
It only took them about 10 minutes to start catching fish!
We all had a blast swimming and boating on Salmon Lake,
Do you notice how there's hardly any people?! That doesn't happen in CA or NV 🙂
This is the view of Salmon lake as it tuns into a river. I thought the reflections were pretty.
And finally some pretty wildflowers the kids picked on a walk displayed inside some milk glass!
We had such a great week in big sky country! If you ever have the chance to bring your family here I'd definitely recommend it! Next time we're for sure going to check out Glacier National Park.
joining: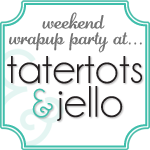 Create and Inspire Party @ A Night Owl Blog