My daughter is crazy for Dora! She can go an entire episode and repeat/do everything Dora says….I try talking in Dora voice and it doesn't work! So when I asked her about 6 months ago what type of party she wanted for the big "3" I wasn't surprised to hear "
Dooowwwa
!" It'll be hard to top last years
Elmo pa
rty
, but I think we will! I love "boutique style" glam parties !!
Here is a sneak peek at some of the decorations I have been working on this week.
The first thing I'd like to show you is my great Goodwill find turned ribbon cake plate.
The plate was $3.99 and the cup $.99. After gluing with E600, I added some matching ribbon for the party.
I can either use it for food, or I thought my pinwheel
bouquet
looks great on top of it!
The little pinwheels where on sale for $.49 at Hobby Lobby and the pail was from Michael's at $2.99. I added ribbon and tulle for embellishment.
By far I have spent the longest time on her banner. This is because I don't have a fancy cutting machine and did all the tracing, stenciling and cutting by hand!! I figured out you can make a scalloped circle by just folding a circle in 1/8ths and rounding the edges.
Ok
so this is my first time making party and they are actually harder than they look!!! It took me hours because I tried to find a template online and none worked. Plus I like the bigger size hats. So now I know to use a 12×12 paper and cut a template that looks like my blue piece of paper. After that you just roll them up and tape. I used decorative trim and feathers at the top to embellish.
This cute purple mirror is from Hobby Lobby on sale this week for $5.99. I have a bunch of wall decals that I found for $4.00 on clearance from Target and
Boots
is who I chose for the mirror.
I made the Dora subway art from Picnic (I am obsessed with Picnic photo editing by the way)! I came across the Dora subway art idea from At Second Street.
Whew I am tired after all that…are you?
Hope you enjoyed…I will post the entire party after it happens next week!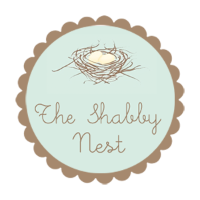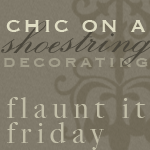 French Country Cottage-Feathered Nest Friday