Read my coffee table makeover tutorial for the May 2013 Central Valley print magazine here 
———————————————————————

I wrote an article about my craft area/office space published in the Fall 2012 article of STUDIOS international print magazine.
——————————————————————————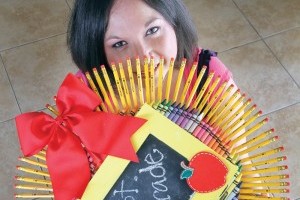 From the Ahwatukee Foothills News:
Posted: Sunday, July 22, 2012 6:45 am | Updated: 9:26 am, Tue Nov 6, 2012.
By Diana Martinez Special to AFN | 0 comments
Lina Darnell's daily routine is like that of most stay-at-home moms, taking care of the kids, getting lunches made, and keeping up the home.
But after her kids are sent to school, dinner is made, and the day is over, she manages the Fancy Frugal Life, her crafting blog that has accumulated more than 4,000 unique readers.
The Ahwatukee Foothills resident admits she never thought the blog would grow so fast in just a year.
Darnell started her blog that features projects, recipes, and organization tips shortly after her and her husband moved to the area in January of 2011.
"I was looking for decorating ideas for my own daughter's room and fell in love with reading other 'mom' blogs and their ideas and stories," Darnell said.
She initially thought to use the blog as a way to keep track of her own DIY creative projects to share with friends and family. Soon after, readers caught attention to the blog via social media sites like Pinterest and Twitter, and it was all downhill from there.
One of Darnell's most recent projects at home involved turning her Ahwatukee home's coat closet into a workspace. Studios Magazine, an international publication, is set to feature her repurposed closet in an upcoming issue.
Additionally, Women's Day magazine is interested in her organizational tips for spring.
"It's been a really neat experience so far," Darnell said near her cozy new home workspace.
For the future, Darnell hopes to continue contributing to other blogs and hopefully décor websites.
The former ad representative, originally from Scottsdale, admits she'd like to stay out of the traditional office environment as long as she can.
"It is important, though, for moms who are at home to stay relevant," said Darnell, adding that she keeps herself informed about news in the advertising industry.
During her family's transition from two incomes to one, Darnell said her kids and husband, Joel, have been troopers through her experience with blogging.
Joel, according to Darnell, has been incredibly supportive of her blogging, noting that he happens to be one of Fancy Frugal Life's "biggest fans."
Also an important aspect of blogging, Darnell said, is keeping the tone of her posts conversational.
With lots of emails and comments on her posts from readers, Darnell said she makes it a point to respond to questions and compliments.
"It's all about supporting each other," Darnell said of following other bloggers.
While she admits she may not "know half of everything" there is to know about blogging, Darnell knows how far she's come in a short time.
"I think I've done pretty well," she said proudly, encouraging other new bloggers to keep at it.
Visit Darnell's blog at fancyfrugallife.blogspot.com for her latest projects, recipes and crafts on a budget.
• Diana Martinez is freelancing this summer for the Ahwatukee Foothills News. Reach her atthedianamartinez@gmail.com.