Welcome to my home for Christmas! It took me so long to get everything out and up, and even longer to clean up! I can't believe December is flying by so fast! I'm so excited to share my Christmas stuff with you guys. Our tree moved this year to behind the couch and I really love it.
I spent so much time taking and editing these photos I don't have time to go in and explain each one so here are the highlights. You might have to look at the pictures and come back and read this part 🙂
Beside the tree on the left, hangs the new ornament wreath I made a few weeks ago! I love the colors and how it looks in this room. That is a fun satisfying project 🙂
 See the fresh pine swag that I've hung on our curtain rod on the right of the tree? It's from Trader Joe's and I've added some cute ornaments and bow. I love how it smells!
The mantel has some new signs from Kirkland's this year. This is what I spent my sponsored post money from them! Love it!  They have some great stuff this year, I wanted it all. Also note my fun dollar store stockings that I added ruffles to last year.
The stairs have garland and wreaths going up it again and another new "Santa Stops Here" sign from Kirkland's. I made that pallet Christmas tree a couple years ago.
I wanted to point out my little tree especially for the kids' handmade ornaments. I even made some popcorn garland!
Here's how I'm displaying Christmas cards this year. I took apart an old flower arrangement I had and made a swag for above the canvas.
My parents just gave me this sweet white ceramic vintage tree with the peg lights. Don't you love those? We always had one growing up. I've never seen a white one and love it!!
Last year I snagged some pretty cream and blue ornaments @ 75% off from Target after Christmas clearance  and added a few from my local dollar store 🙂
Thanks so much for stopping by! I love putting together our house for the holidays and hope you all are having a wonderful holiday season! Merry Christmas!
Joining:
Home Stories A-Z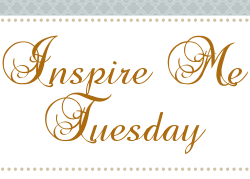 Liz Marie Blog
/>
Tatertots and Jello