I completed my first project in my master bedroom makeover plan and that was to style our built in shelves and organize my jewelry. Today I'm sharing a few small makeovers that together make a big impact on this space.
Let's start with some fun shelf liner adhesive I found at TJ Maxx. I lined the back of my shelves with it and it matches the already painted brown shelves pretty well!.
I found this silver plated lazy susan tray at Goodwill for $5 this week at Goodwill this week!
Thanks Krylon for sending me some spray paint in my new favorite color Coral Isle.

Look how pretty my tray looks now!
I shopped my house and found a few more things to spray paint! This is an old candlestick and jewelry box I have almost donated many times.
The palm tree candlestick makes a great necklace and bracelet holder!
And so does this coffee mug holder I painted white.
This old jewelry box received a makeover too with the Krylon spray paint and some brown stencil action.
Next up I found this plastic frame from my daughter's Dora birthday that was a mirror but it broke and I kept the frame. (Are you seeing a theme of hoarding home accessories, So does my husband.)
After I spray painted it, I hot glued ribbon across the back to hang earrings.
(I have a small locally owned $1 store that has really cool jewelry. All of these earrings actually… Can you believe it?) The three tired turquoise beaded necklace pictured in photo 1 of post is from there also!)
While I was painting stuff I remembered some lightweight metal earrings from Pick your Plum I wanted to paint.
So my tips for organizing jewelry are to re purpose, re purpose, and re purpose. Also spray paint makes things pretty and uniform.
I think Krylon's can is really easy to use, dries fast, and am a big fan of Coral Isle!
Thanks for visiting my tiny makeovers! I will show you the rest of my bookshelves soon. This is my first real post in WordPress and I'm still learning…It's a process.
Have a beautiful day!
Joining:

Create & Inspiration @ Little Inspiration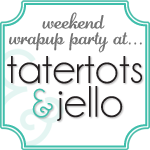 Make it Pretty Monday @ The Dedicated House
Before & After Party @ Thrifty Decor Chick