Last week my son's school had testing so this week we are celebrating Teacher Appreciation Day. We happen to have a great teacher right now who has been filling in long term for our original teacher who had a baby in January. Ms. Johnson is a new teacher and so full of enthusiasm and joy for these kids. I love being able to volunteer in class and with the home room parents. Our school has a tradition of decorating our classroom teacher's door and bringing her treats and gift cards all week. This year we decided to do a Disney Tangled theme since our teacher is a big fan of the movie.
My part was to bring in the teacher and class a snack yesterday and I made these sweet little Repunzzle inspired ice cream cone cupcakes. I originally spotted these here, but with just a photo and no instructions. I kept track of how I made them so you can too!
First let's talk about making cupcakes in ice cream cones. I read a ton of posts on doing this, and even asked my Facebook fans how they do it, and I decided to go with the method of baking them in muffin tins. It worked great! I will say that I threw away one batch because they sunk in the middle and looked yucky after baking. I'm not sure if it was my oven or what happened…. I then bought two boxes of Betty Crocker cake mix and they turned out great! Make sure to fill half way or a tiny bit over!
Now let's talk decorating! I don't have fancy cake decorating supplies so I went with these tubes of frosting for convenience. I also bought the 4 small corresponding Cake Mate tips. I thought they worked great for what I needed.
My first step was to make the door with chocolate frosting in a plastic bag by cutting the tip of the bag to pipe a thin amount.
For the hair I used the tip with the circle jagged looking edges. I made the hair sort of loop all the way down.
The vines are green frosting with a simple thin tip. Attach the flower sequins right away.
The buttercream frosting is this recipe and contains shortening so it's stiff along with purple food coloring. This will be important in the transporting of these treats in the car! The last thing I did was pipe on the purple frosting to look like an ice cream cone. I do have a plastic Wilton tool I use for frosting cupcakes.
Not to shabby, right?! Now try making 27…That was a little time consuming! I did have a friend assisting me and we had fun.
I ended up transporting them in muffin tins placed in larger boxes. They did fall over in the car but since the frosting is stiff it didn't hurt them too much. Plus those Cake Mate tubes dry stiff as well.
I wanted to show you the small double tiered cake I made especially for teacher. I baked it in two different sized small glass ramekin bowls. Here is how I do ruffle cakes.
This is the unfinished wood frame I painted to put a class photo in as a fun gift. The lizard is from the craft store too.
Another room parent made these cute wanted posters!
Our class and teacher were all thrilled to receive these treats and we all had some fun celebrating! Wouldn't these be perfect for a Tangled theme birthday party?!
Joining:
Wednesday Party @ the 36th Avenue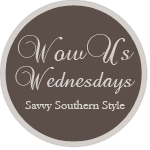 Savvy Southern Style