My son's cute surfer room has a couple of additions. The first is a hand me down toy box that was my younger brother's. It was just a plain wood toy box with a train painting on the top. It really does hold
a lot
of storage so I wanted to give it a makeover!
This is the only before pic I can find, right after we (well my talented hubby) cut the
mdf
bead board
and nailed around the box.
After a whole lot of sanding on the top it got two coats of primer and then the color Popcorn by
Behr
.
I tried
Faux
Glazing for the first time. I mixed the glaze with a darker color paint and then painted the grooves, while wiping off the excess. Um ya I think this might have been a little advanced for me. I kept thinking it looked like a mess of smeared brown paint…but then when it was all done and dry…not bad! way better than what we started with.
Then for a more polished look I sprayed a cute letter G with red spray paint and glued on.
It fits in so great with the
beachy
feel of his room! I found that anchor for $3.99 @ Goodwill. The sweet photo canvass I have had for a few years of my two fav boys on a trip to the Oregon coast.
Also I found this tiny wood surf board already hand painted at my Goodwill for $1.99. I already had an old gold frame not in use, sprayed it white, and hung the surfboard in there!
Goes great with the clearance
HomeGoods
lamp on his nightstand 🙂
Lina
Linking To: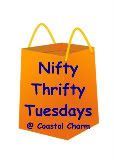 Wow Us Wed on Savvy Southern Style